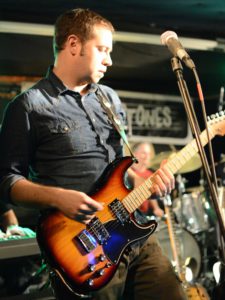 Jason Kucker (vocals, guitar) was born in Brooklyn, New York and grew up in the New York Metropolitan area. In his youth he studied trumpet and was involved in musical theater for many years, but when he picked up the guitar at the age of 13, he fell in love. A self-taught guitarist, he played and sang in a slew of rock bands throughout his high school and university studies. He has lived in the Czech Republic on and off since 1999, working primarily as a teacher and translator. In the summer of 2012 he cofounded the band that would eventually become The Yestertones.
Jason Kucker (zpěv, kytara) se narodil v Brooklynu v New Yorku a vyrůstal v blízkosti města New York. V mládí studoval trumpetu a věnoval se hudebnímu divadlu mnoho let, ale jakmile poprvé sáhl po kytaře ve svých 13. letech, zamiloval se do ní. Jako kytarista samouk hrál a zpíval v mnoha různých rockových skupinách na střední i na vysoké škole. Od roku 1999 žije v České republice, kde pracuje především jako profesor a překladatel. V létě roku 2012 se stál spoluzakladatelem kapely, která se nakonec stala skupinou The Yestertones.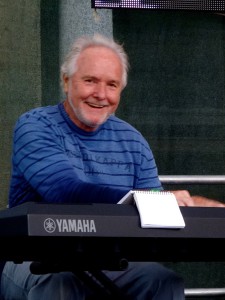 Jiří Kozák (piano, keyboards) inherited his musical talent and a piano from his parents, laying the foundation for his lifelong hobby. In his youth he studied piano formally for 10 years. Later, as a student he played keyboards and guitar in several amateur bands. Today he continues to make use of his extensive musical experience, playing in the Eric Clapton Revival Band since 2013 and in The Yestertones since late 2014.
Jiří Kozák (klavír, klávesy) zdědil po rodičích hudební nadání i pianino, což dalo základ k jeho celoživotnímu koníčku.V ranném mládí kromě vlastních improvizací studoval 10 let hru na klavir. V pozdějším, ještě studentském věku hrál v několika amatérských skupinách na klávesové nástroje i na kytaru. Dnes, v již více než produktivnim věku, zúročil od počátku roku 2013 svou celoživotní hudební zkušenost a praxi ve skupině Eric Clapton Revival a od konce roku 2014 i ve skupině The Yestertones.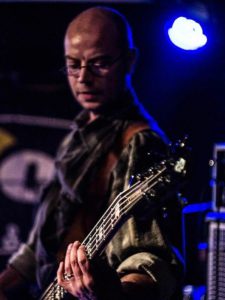 Dušan Kovář (bass guitar, vocals) describes his musical life as follows: were it years back, he might have boasted of bands and venues which seemed great way back them. But looking backwards now, all he can really say is this…  He was born, listened, wondered, tried, enjoyed…is still trying…and hoping he won't spoil anybody else's enjoyment (what more do you expect from a bass player?).
Dušan Kovář (baskytara, zpěv) sepsal svůj hudební životopis následujícím způsobem: dřív by možná chlubivě jmenoval kapely a tak, některé se tehdy zdály opravdu fajn. Ale když o tom zpětně přemýšlí, může říct asi tohle…  Narodil se, poslouchal, užasl, zkoušel to, bavilo ho to…zkouší to furt…a jen doufá, že nezkazí potěšení někomu jinému (co byste taky chtěli od basáka víc?).
Daniel Dyk (drums) began listening to tones and melodies when he was little from his parents who played jazz and swing. At about 14 years of age he started playing piano and drumming. The drums eventually drowned out the piano and have stuck with him to this day. He's played all imaginable styles of music in various bands and always found joy and happiness in music. What else is there to say? Melodic music makes for a satisfying life.
Daniel Dyk (bicí) slýchal od malinka tóny a melodie od svých rodičů, kteří hráli jazz a swing a tak cca kolem 14ti let počal ke hře na piano i bubnovat. Bubny přehlušily piano a zůstaly mu dodnes. Vyzkoušel si hrát všechny možné hudební styly v různých kapelách a vždy pociťoval z hudby radost a štěstí. Co dodat, melodická hudba je jako spokojený život.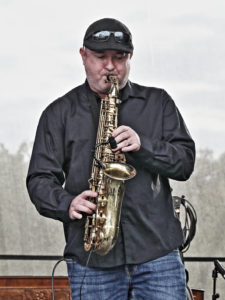 Karel Šváb (saxophone)  studied clarinet at the Prague Conservatory. He began playing saxophone during his studies in the nineties with a variety of groups. After graduating he began studying audio production and worked with the band Sto zvířat for 10 years as a soundman and co-author of music. He is a freelance soundman who works with 100PROmotion and performs with the bands …a vůbec!, Jeff Biograf, and The Yestertones, mainly blues-rock and rock & roll, styles he has loved all his musical life or at least for the last several (paternal) years.
Karel Šváb (saxofon) vystudoval klarinet na Pražské konzervatoři. Začal hrát na saxofon už během studií v devadesátých letech s nejrůznějšími kapelami. Po absolvování konzervatoře se začal věnovat i zvukařině a 10 let spolupracoval s kapelou Sto zvířat jako zvukař kapely i jako spoluautor hudby. V současné době je zvukař na volné noze, spolupracuje se 100PROmotion a vystupuje střídavě s kapelami …a vůbec!, Jeff Biograf a The Yestertones, převážně tedy blues-rock a rock&roll, což je mu asi nejbližší celý jeho muzikantský život nebo určitě několik posledních (otcovských) let.